Peter von Hess
Düsseldorf 1792 - München 1871


Peter von Hess, an early 19th-century painter of battle pieces and genre scenes, received his first training from his father, Carl Ernst Christoph Hess. By the age of ten, Peter von Hess was a good draughtsman and at sixteen he enrolled at the Munich Academy but did not stay long there, preferring to work out his own style on the basis of studies from nature and the German Old Masters. He did his first genre paintings while still in the process of teaching himself.
Under the influence of Wilhelm Kobell and his own experiences in the Napoleonic Wars in France in 1813-15, Peter von Hess painted his first battle pieces. In 1818 von Hess spent some time in Italy, painting landscapes and genre pictures with Italian subject matter. During the 1920s the influence of Wilhelm von Kobell and Albrecht Adam on Hess's work diminished as recognition came.
In 1933 Peter von Hess accompanied Otto I to Greece when the Wittelsbach prince became the first king of that country. After travelling to Greece, Peter von Hess produced several history paintings. Internationally acclaimed by now, von Hess was officially commissioned to execute battle pieces in Russia.
Peter von Hess was, alongside Wilhelm von Kobell and Albrecht Adam, one of the most important painters of battle pieces in Munich during the first half of the 19th century. Colour is of paramount importance in von Hess's work; he handles it like the Old Masters, crisply and with the sparing precision of a miniature painter. His objectivity and acute powers of observation place Peter von Hess at a far remove from Neo-Classicism.
Equally versatile in such only apparently contradictory genres as the battle piece and the classic genre painting, Peter von Hess was one of the founding fathers of genre painting in Munich.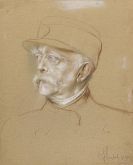 Franz von Lenbach
Otto von Bismarck
4,440 $
Details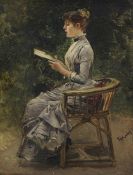 Friedrich August von Kaulbach
Dame bei der Lektüre im Garten
3,330 $
Details